The SM QUATTRO microprocessor-based datalogger with up to 12 fully sealed plug-in PT100 platinum film sensors suitable for air or liquid temperatures and uses the novel approach of a logging and filing system, which allows the data of any day in its history to be read and examined with just a few key presses.
The large graphics LCD display communicates the information to the user with clarity, making programming and setting-up friendly and uncomplicated, without compromising its sophistication and digital accuracy.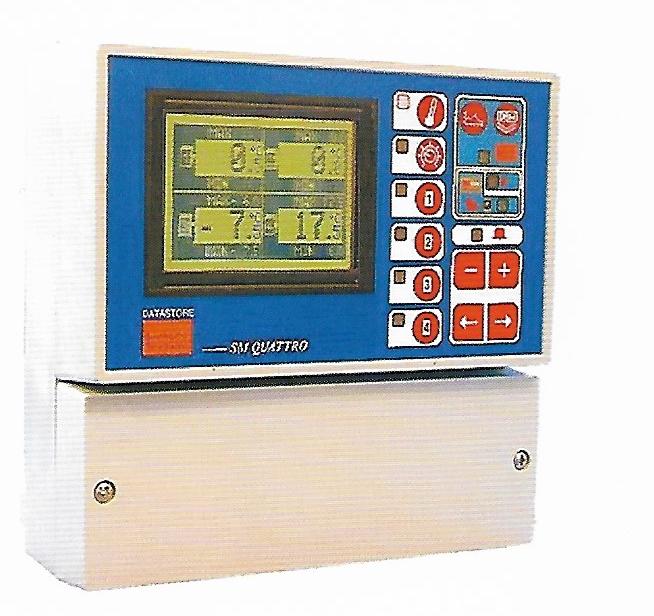 SM Quattro Datalogger
Datalogger with automatic filing by date - also able to be directly printed to paper as required.
50-year clock/calendar for datalogger filing.
The temperature from each Channel is logged and stored to long-term internal memory which can be visually displayed or downloaded continually or whenever required.
'Percentage of internal databank used' indication in bar graph and digital form.
'Internal databank 98% full' indication to transfer contents to appropriate media.
Temperature range: +50°C / -50°C Standard (Extended range available).
Power Supply 220 - 240v ac Mains.
Contents of internal databank can be transferred directly to the PC using the MASTERLINK Software or via a MASTERLINK 2.0 Hardware module to a PC at a remote site, but can also go straight to a paper printer.
IP 55 sealed enclosure.
Complies with EU EMC 89/336/EEC directive.
Alarm Functions
2-Stage high and low level alarms with mute and reset facilities:
Stage I temperature threshold with trigger delay.
Stage 2 limit temperature with immediate trigger.
Status -window for system fault indication.
Diagnostics screen revealing system parameters.
Alarm history record for low alarm, high alarm and power fail.
Alarm relay for external device.
Battery back-up for power-fail operation.
Door open alarm - with timer